Asoros's Goldens is located in Livonia, Michigan. We have enjoyed the breed of Goldens for over 20 years. Our first Golden, "Pup", showed us how wonderful and versatile this breed is. Although now gone, she is not forgotten. Her very presence in our lives brought us to where we are today. Our practice of responsible breeding began 13 years ago. Soundness and personality are our first goals at Asoro's. Many hours of research and planning are spent on each litter. All pups ,show or pet, go home with a written money back guarantee that covers all genetic problems known to the breed.
Guarantee Litters Awards In The Beginning
Because of the popularity of Golden Retrievers, many dogs of inferior quality are being used for breeding. All breeding stock should have Hip, Elbow, Eye, and Heart clearances. All good breeders will be most proud and happy to produce these for you. Please visit these links to learn more about Golden Retrievers and responsible breeding.
Golden links
Golden Retriever Club of America

Or call us at (734) 421-1965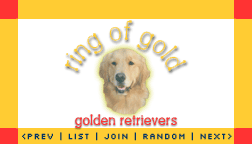 Website designed by: Brianne Cook

All pictures on this website are property of Asoros Golden Retrievers and we ask that you do not take them for any reason. Although, if you would like to take any of the graphics, you may do so.